Delivery
We are the Delivery team or also the Professional Services team. Our projects begin with the ideas and needs of our customers - the banks. Then it's our turn. We customize the standard product. Each project involves our cooperation on an international team made up of people from different branches of Diebold Nixdorf worldwide. Projects normally last for several months, while some take over a year. The opportunity is there for us to travel the world, if we so desire. Working on projects is also a bit of an adventure.
We all want to work on something that makes sense and is successful. We don't want to do things that wind up being filed away in a desk. It's no different with us - our goal is a satisfied customer and a delivered project, where the solution works as the bank wanted. We build our projects on the foundations prepared for us by the Research & Development team. The Delivery team creates customized adjustments to the needs and wishes of the customers.
Martin Ponocný, Delivery manager
Front-end or back-end?
There are two teams in the Delivery department at Global Center Pilsen. The front-end Vynamic Connection Points team, where we provide the customization of front-end user applications running on ATMs worldwide.
In the Transaction Middleware team, we are in charge of customizing a back-end server solution that can, for example, convey communication between ATMs and the bank's internal systems.
35
people for the back-end product on the Transaction Middleware team
32
people for the front-end product on the Vynamic Connection Points team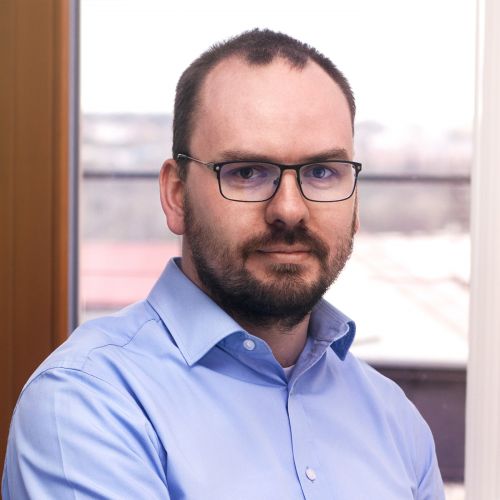 Our team will continue to expand in the future because we are planning to get more projects for Pilsen. We take advantage of the fact that we cooperate across projects and help each other to foster growth. We are a young team that is close to each other both at work and in our personal lives. Openness, reliability and a good team spirit are values we encourage. That is why soft-skills are important for us when choosing a new colleague - being a communicative team player, being a logical thinker, speaking English as well as being a kind of project adventurer. Actual know-how and practical experience can always be passed on and acquired within the team.
Martin Ponocný, Director Professional Services Delivery
We focus on the customization of the ProFlex4 front-end product in our Delivery section. It is an application that runs on ATMs and is directly visible for the bank's clients. An international team is created for each project to work remotely most of the time. We are all in contact with foreign countries every day through our project team, whether we have decided to travel or not.
We work on short projects that cover the entire software project development cycle. Therefore, we have the opportunity to learn quickly and gain interesting experience. We probably use our ATM lab located on the ground floor of Avalon the most of all the teams at Global Center Pilsen. We have over fifty ATMs from different manufacturers, which allow us to simulate and test application behavior in a real customer IT environment. We use web technologies like HTML5, CSS3 and JavaScript. We don't have to be Java developers, but this experience comes in handy.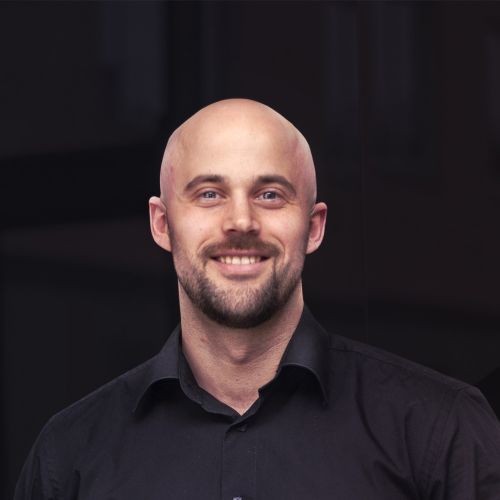 You can find various job offers in Pilsen ranging from rail transport to various industrial automation or automotive offers to retail and banking. But whoever wants to do world-class banking works at Global Center Pilsen.
Ondřej Bříza, QA Engineer
Our team for customers adjusts the product which is commonly found between the front-end at an ATM and the back-end at the bank (hence the name middleware in the team name). We work with both older and newer IT technologies and make good use of a broad overview. For example, our solutions verify customer identity, determine the feasibility of a transaction, communicate with ATMs and other banking systems, direct or process transactions, process cheques, as well as offering many other features.
Our work is also varied. We work on international projects - currently for clients from France, Germany, Austria, but also from Singapore, USA or Australia, for example.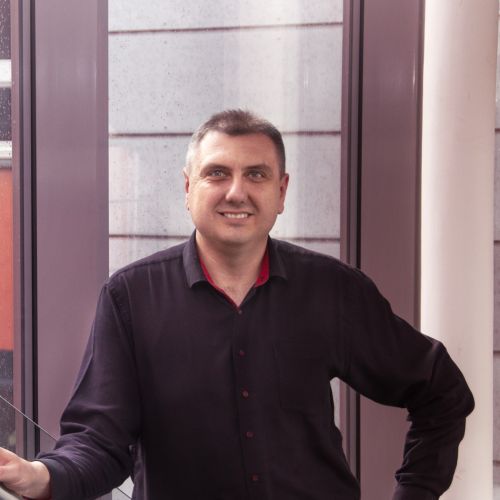 For me as a team leader and trainer, the education of people is very important and it's very elaborate at Diebold Nixdorf. As a result, I can see how people grow with each project and gain more and more experience.
Slavoj Písek, Senior SW Engineer for JAVA
Are you an adventurer by nature?
Every project is different. The customers change, their needs and ideas change, the resulting customized solution, international team composition, and to some extent even the technology used changes as well... Teamwork is crucial for us along with a willingness to work on ourselves and to learn new things. The possibility of traveling and working with people from different cultures can be an interesting bonus within projects.
The atmosphere on the team, openness and feedback are important to us. We support our colleagues when they want to grow - both in terms of seniority, specialization or in management positions. Everything can be worked out.